We have temporarily closed the front entrance to redirect all partons and staff through an entrance around the back of the building to allow for some pre-screening measures including:

Silver Creek Sportsplex has been ISO Certified to conduct touchless-temperature checks via infrared imaging
Anyone with a body temperature of 100.4 or higher will be denied access
Hand sanitizer use will be required for staff and patrons prior to entering The Plex
All patrons above the age of 6 will be required to wear a protective face mask while inside the facility
Customers and staff must confirm via waiver (to be completed with your own device) and verbal confirmation that they have not experienced any COVID-19 symptoms in the past 14-days and they haven't knowingly been in contact with anyone experiencing these symptoms.
More hand-sanitizer stations have been installed around the Plex

Sanitization and sterilization standards have been increased throughout the building

Newly epoxied restrooms will allow for easier sterilization
Protective guards have been placed on all keyboards in the building
We now have touchless-pay vending machines
We have added a HEPA Air-Scrubber System with 4-stages of filtration and purification
Ventilation in the locker rooms has been increased
Inflatable bounce houses have been removed from the facility
Showers are currently unavailable
Weekly sanitation fogging will take place throughout the building
We have scheduled routine sanitization of common touch-points throughout the facility
Where possible we have amended our programming to allow for social-distancing, we will continue to offer the following:

Camp
Badminton Drop-In
Open Skate Drop-In
Bubble Soccer Rentals
Lil' Kickers Classes
Skills Institute Classes
Private Soccer/Hockey Lessons
Pitching Cage Rentals (Baseball, Softball or Cricket)
Half-Field/Rink Rentals (for Families)
Full-Field/Rink Rentals (for Teams & Friends)
Until further notice, we are introducing new program options that allow for distancing including:

Hockey Golf
Pickleball
Basketball (Half-Courts Available for Rent)
Archery Target Practice
Foot Volley
Cornhole
Karaoke
All equipment provided by Silver Creek Sportsplex will be thoroughly sanitized between uses including, but not limited to:

Pennies
Goals
Soccer Balls
Bubble Soccer Balls
Skates
Field Barriers
Cones

Until further notice, we will have limited equipment available for rent.
When possible, for drop-in programs, please bring your own sanitized equipment for use:

Birdies
Racquets
Soccer Balls
Skates
Hockey Equipment
Etc.
Signage and Floor Markers will be around the facility to help everyone stay safely distanced throughout the building.
It will be everyone's individual responsibility to maintain a 6-foot distance from one another, we appreciate your efforts to do so.
Stay home if you are experiencing any symptoms of COVID-19 or have recently come into contact with someone who has.
All patrons will need to provide their own Personal Protective Equipment (PPE).
Face Coverings will be required inside the building by all customers over the age of 6, the use of gloves is recommended but not required.
Maintain a minimum of 6′ distance from others at all times
Please comply with any instructional signage throughout the building for everyone's safety.
Contactless Transactions – We kindly request that when possible, patrons make payments using the card information saved on their DASH account to avoid any unnecessary contact/exchanges.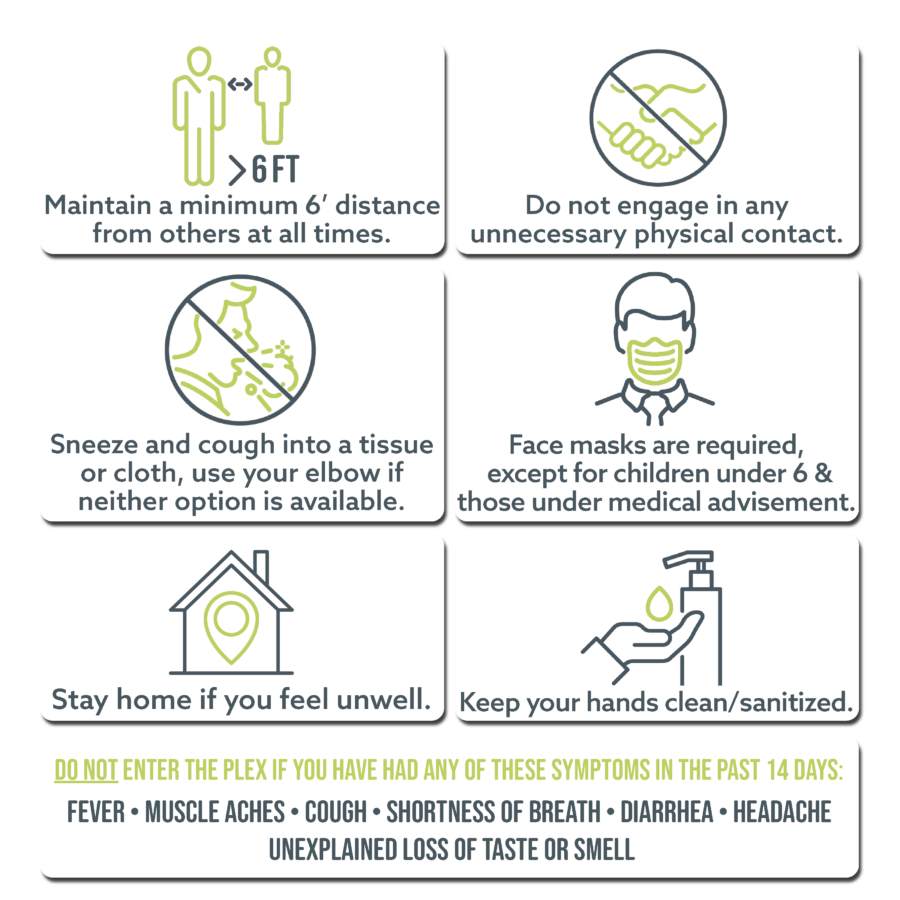 When will The Plex reopen?
We are currently awaiting approval to reopen from the state of California as well as the Santa Clara County Public Health Department.
What's the status of my Annual/Half-Year Membership?
All memberships will be extended by the amount of time we are closed to the public.
When are leagues restarting?
We will resume hockey/soccer leagues as soon as Santa Clara County Public Health Department (SCCPHD) allows contact sports to be played indoors.  We expect this to happen later in the year. All leagues will resume in the same week as we left off.  For Example: If league play stopped in week 3 of the season, you will resume in week 4 of the season once play begins.
Will family members be allowed to watch games or activities?
We will abide by all SCCPHD rules and regulations.  As of today, no guidelines have been issued for spectators attending indoor sporting events.  Once these guidelines have been released, we will update this webpage.
Will customers have to wear a mask while participating in any games/ activities?
We will abide by all SCCPHD rules and regulations.  As of today, all children under the age of 6 do not require a mask.  When attending camps, all children under 12 are not required to wear a mask.  All persons 13 years and older are required to wear a face-covering at all times unless eating, sleeping or actively exercising.
What are the facility hours?
Our hours will remain flexible upon reopening.  We will offer many new activities at The Plex once we are able to reopen our doors.  Most nights we plan to be open until 10PM.  We will host a number of individual sports and activities within our building until we can resume league play.
Will locker rooms be open to those who rent out rink time?
Yes, locker rooms will be accessible for those who rent the rink.  All locker rooms will be cleaned and sanitized between each use.
What will be the schedule for the new activities?
Our offerings will rotate between a number of different activities.  Please view our "find and register" tab on our website for a schedule of current activities.
How often will the schedule be updated?
Schedules will be updated weekly for your convenience.
Do you need to book a time slot for the activities or can I drop-in?
All activities will require preregistration via DASH.  Drop-ins will not be accepted.
Will there be a limit on how many people are allowed in each activity?
Yes, each activity will have a maximum capacity.  This will be monitored via DASH and activities will "sell out" during the day.
Please register and pay early to reserve your spot.
Can I only play with members of my household or will I be paired up with other people?
Most games will be played in a "singles" format, meaning you will play against one other opponent and no teammate.  Families are encouraged to come together and may participate in larger groups consisting of only household members.
If I forget my face mask at home, will you have any available for purchase?
We currently do not have face masks available for sale.
When will you be bringing back the jumpers?
The jumpers will be considered for reincorporation later this year.  We will abide by all SCCPHD and CDC guidelines for reincorporating the jumpers.
Can we reserve a spot ahead of time for drop-in/modified programming activities to ensure a spot?
Yes, reservations will be mandatory for all modified programming.
Do you purchase admission to one activity or all activities offered on that day?
Each activity will have its own roster.  Players will not be able to roam from activity to activity as all equipment and spaces will be cleaned and sanitized between groups.
When will booking for LOL parties, field trips, and private events resume?
Reservations for all events can be made now, for events after August 1st .
Will you be limiting the number of guests allowed in the building? If so, how many people will be allowed? How will you regulate the number of individuals in the building to ensure guest safety?
We will comply with all SCCPHD guidelines regarding occupancy restrictions/modifications.  Once this information is released we will update this webpage.