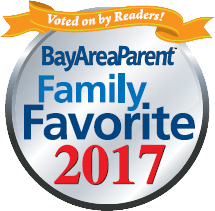 LOL Parties at Silver Creek Sportsplex is your ultimate kids' birthday party destination. We offer fun activities for everyone including: soccer, dodgeball, or free play on state-of-the-art indoor turf fields; jumping on giant, custom-designed inflatables; glow skating, private party rooms; superb food; and party coaches who provide an interactive experience that ensures everyone has fun!
We look forward to seeing YOU at LOL Parties!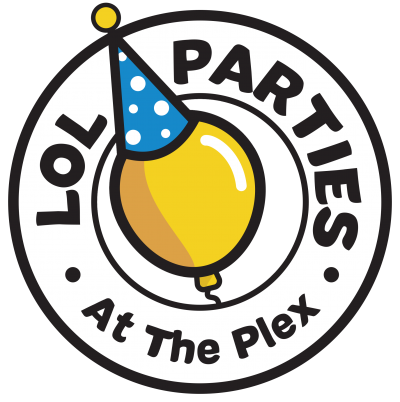 LOL Request a Date & Party Package
The Knee Slapper Party – $450
45-Minutes in Inflatable Play Zone

30-Minutes of Field Activity or Rockwall Climbing

45-Minutes in a Private Party Room

Availability on Saturdays & Sundays
The Small/Large Field Party – $400/$450
60-Minutes on the Small or Large Field Participating in one of the following activities: Soccer, Dodgeball, Flag Football, or Free Play

60-Minutes in a Private Party Room

Availability on Saturdays & Sundays from 1pm – 3pm.
Nerf War Party – $450
60-Minutes of Nerf Wars on an Arena with Barricades

60-Minutes in a Private Party Room

Availability on Saturdays and Sundays
Balloons
$40 for 15 balloons
No more stuffing balloons into the back of your car!
Silver Creek Sportsplex Members are eligible to receive one complimentary balloon bundle for their party!
Decorations
Themed party decorations available to add to your package for $60.
Available themes: Soccer, Unicorn, and Happy Birthday.
Included: themed paper plates, cups, and napkins.
Important Notes
Party packages include up to 15 children (including the birthday child). You may have up to 10 additional children at $10 per child added.

Food: You may bring a birthday cake, but no other food or beverages may be brought in. Fountain drinks, juice, and water are available from LOL Parties. Food must be purchased from the on-site restaurants. All food orders will be placed with a manager at the restaurant when they contact you by email. To make any changes to your food order, or if you have any questions please contact a manager at the restaurant directly at 408-365-5500.

Important! In order to be allowed to play, each child must have a waiver on file with us, signed by a parent or legal guardian. If you or your child are not already in our system, you can save some time by filling it out online, ahead of time. Click here for the waiver.

SOCKS are required for EVERYONE entering the inflatable play areas, including adults–even if you are just watching/supervising.

Outdoor cleats are not permitted on the field.
How to get started—Party checklist
Fill out our Request a Date form 

here

We will contact you to find a date and time that will meet your needs.

A non-refundable deposit will be required to reserve your party. The balance is due a week before your party. Any party extras (e.g. additional children food orders, additional cups for fountain drinks, balloons) will be payable the day of the party.

A week before the party, we will contact you to finalize details, and your headcount.

Please remind the invited families that socks and online registration are required. Without both of these items, the children will not be allowed on the field or the inflatables. No exceptions.  Socks can be purchased at The Plex for $3 each. Complete the waiver here

Party time! Please arrive 15 minutes early. Ask your guests to arrive 10 minutes early to verify their registration and receive their wristbands. Party time will not be extended for late arrival.
Food
We pride ourselves on having the best party food in town! All our food is prepared to order on-site. You may bring your own birthday cake, but no other food or beverage items are allowed from outside.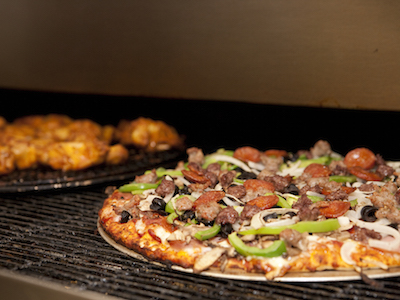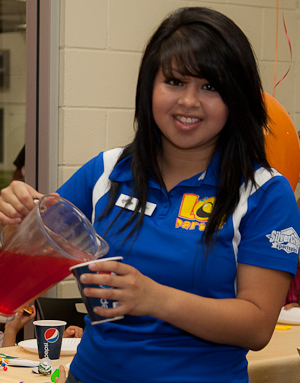 * THERE IS NO CHARGE FOR PITCHERS OF TAP WATER.
* PRICES SUBJECT TO CHANGE WITHOUT NOTICE.
Beverages
Bottomless fountain beverages are included for the children in your party. Additional beverages will be purchased from LOL Parties. When finalizing your party details you will be asked to place your beverage order
Fountain Drinks (included for children in party):
Additional fountain drinks may be purchased for an additional $1.50 per person (adults & children).

We offer unlimited refills of fountain drinks.

Pepsi, Sierra Mist, Pink Lemonade, and water

The fountain drinks are served in pitchers and placed in your party room.

We do not sell beverages by the pitcher.

Your Party Coach will be happy to refill your pitcher when it gets low
Bottled Water ($1 per bottle):
These are $1 (+tax) each.
These are 16.9 oz bottles of water.
100% Fruit Juice ($40 per case + tax):
We offer Capri Sun pouches by the case

40 Pouches Total

10 Apple
10 Berry
10 Grape
10 Fruit Punch
"We all had a great time and received many compliments from the parents who attended and food was delicious. Adrian was great with the boys and totally took a load off my usual birthday scramble! Thanks for everything!!"
"To say that my son & his guests had a great time is an understatement. Everyone had a blast!! Everything ran so smoothly. Your staff was very helpful the day of & the days leading up to the event. Very clean & organized. Thank you so much. We will definitely be back!"
"Our son's bday at the Sportsplex was so much fun! We got to enjoy watching the boys play dodgeball and have a blast on the slides. The food was great and the bday coach was great with the boys. We would come back again! Thanks for making it the easiest birthday we have ever planned. Our son was all smiles at the end of the day!"
"My daughter and I would like to say that we had a blast! The crew was easy to work with and the entire experience exceeded our expectations. I've definitely put LOL Parties at the Plex on the list and I will be advertising when friends and family are looking for a good party place for their kids."
"We LOVED our party at the Sportsplex. It was a very smooth operation and the kids and adults all had a great time. The party coach was AMAZING! He didn't just scoot kids from one activity area to the next, but played with them and made the whole day fun and interactive for everyone!  Thank you!"
"Thank you to you and your staff for such a wonderful birthday party for my girls!  High Five did a wonderful job with the pizza, everything was on time and flowed smoothly.  Our party host was very attentive to the kids during the activities as well as in the party room for food and drinks.  We will definitely be back for future events!"
"It was my first time booking an event there and I was very impressed.  The service level and professionalism far exceeds any other establishment that I have used for my children over the past 24 years! Thanks for making my daughter's birthday special.  Note:  The kids that were invited to the party kept telling my daughter at school yesterday that they had a great time."
"Everything was perfect! I especially appreciated the host and event coach for the party. As you may know it can be a stressful time organizing parents and kids. I know it is for me! Their calm and relaxed attitude made me feel taken care of and allowed me to TOTALLY ENJOY the moment. Thank you! Every parent said it was such a cool place to be and the food was great too! And of course, the kids wanted more when the time came to leave. I would definitely plan more events with you and refer family and friends. And oh! no clean up too!!! Can't say thank you enough!"
"The party was a lot of fun. Your staff is phenomenal and takes care of all the details. They were all very friendly and helpful and the young man that was with the kids in the inflatable play zone was amazing. He never tired out. Parents who had never been there before, were amazed at the place and one of the kids said he wants to have his birthday party there next. The pizza and service from Hi-Five were great as well. We would definitely come back for another party and will recommend it highly. "
"We had a great party! Everything went well! Both the host and the party coach were very helpful and friendly. My guests had a great time. Thank you."
"My daughter loved her birthday party and everyone else had a great time too & loved the food; I absolutely recommend the place to all my friends and as a matter of fact my husband liked it so much that I am thinking of booking the big field (soccer game) for his surprise birthday. Thanks for your wonderful staff; they were awesome."
"Last weekend was my first visit to Silver Creek Sportsplex. My four-year old son attended a birthday party. Everyone had a great time and it was because of our fabulous party coach. He was attentive to the needs of all the kids which ranged in ages from toddler to 10 year olds. He engaged all the kids and played with them the entire time. And when it came time to eat and serve cake, he made sure we had what we needed, helped serve and even helped cut cake. I was really impressed with his ability to engage kids of all different ages and his professionalism. As the saying goes, 'you never get a second change to make a first impression' and we will definitely be coming back to Silver Creek Sportsplex because of our party coach and our first impression."
"My daughter and every one of my guests had a blast at the Sportsplex; we all had a wonderful time and this is the best birthday party we have had for my daughter!"